Sightseeing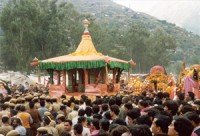 Raghunath Ji Temple
This is 17th century temple in the middle of Kullu town. It houses idol of Raghunathji, chief deity of the Valley. During Kullu Dussehra this idol is taken to Dhalpur ground (adjacent to Hotel Aroma Classic) in a chariot and stays there for a week. The celeberations continue for a week. There after, on last day i.e. on the 7th day, the idol is taken back in similer procession to the temple.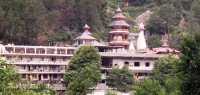 Vaishno Devi Temple
Beautifully Located alongside the river Beas is cave temple of godess Vaishnodevi. This is also one of the many points around Kullu, where you can enjoy the beauty of river beas in all its magnificence and also feel its cold & clear water. Dist. 4 km.
Manikaran
Known for famous boiling hot sulphur springs and also for temples of Shiva, Rama and Gurudwara, is a must visit place in the beautiful Paravati Valley, toward south east of Kullu. Kasol is a charmingly situated beauty spot 4 km. short of Manikaran. Dist. 42 km.
Rafting Point
Adventure sports of white water rafting is held in river Beas near Kullu, during season anybody can enjoy this sport. Dist. 4 km.
Paragliding
The adventure sport of paragliding is also done around Kullu. There are points near Diyar, Raison, Taleti ( Nr. Bijli Mahadev).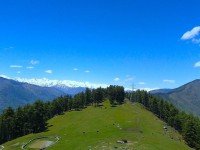 Bijli Mahadev Temple
Reached after road journey of 12 km and then climb of 3km running through orchards, forests and grass meadows. The temple is dedicated to Lord Shiva and the view from the temple of Himalayan ranges & the Valley around is most fascinating. Ideal for short trekking of one day.
Diyar
Diyar is a beautiful place, 25 km from Kullu. It is also famous for pagoda style hill temple of Triyugi narayan. Paragliding is also done from here.
Parashar Lake
It is 64 km. from Kullu is at ht. of 2730 mts. from sea level. The lake is deep blu water dazzling beauty, surrounded by Himalayan peaks. It is 49 km. if visited from Mandi side.
Great Himalayan National Park
The park covering conservation area of 750 sq km, has been inscribed into World Heritage list by UNESCO. The park has panoramic views and variety of wildlife, is ideal location for trekking and eco-tourism activities. For visiting the park permit is required and a pre- trek meeting at GHNP hdqrs in Shamshi (near Kullu) is advisable. Dist 60 km.
Naggar
Once the capital of Kullu, Naggar on the left bank of river Beas is famous for Castle, Roerich Art Gallery and splendid view of the valley & mountains. Dist. 25 km.
Manali
This beautiful town is 40 km from Kullu, on the northern end of the Valley. Hadimba Temple, Vashishat, Solang and Tibetan Monastery are some of the places to be visited.
Rohtang Pass
Situated at an altitude of 4112 mts, Rohtang Pass provides breathtaking view of mountain ranges. The snowbound pass opens in mid-summer only for 4-5 months. However the rest of the year the tourists can go upto the point the road is clear i.e.'snowpoint.' Dist. 91 km.(51 km. from Manali).
Shopping
Markets in Kullu and nearby are best buy at reasonable rates of genuine Kullu Shawls, Kullu Caps, Mufflers, Jackets and other local products.